Ashley Dauwer
Carium Wins "Patient Experience Innovation Award" in 7th Annual MedTech Breakthrough Awards Program
Prestigious international annual awards program recognizes standout digital health & medical technology products and companies
PETALUMA, Calif., May 3, 2023 /PRNewswire/ -- Carium, a Care Experience Platform (CXP), today announced that it is has been selected as winner of the "Patient Experience Innovation Award" in the 7th annual MedTech Breakthrough Awards program conducted by MedTech Breakthrough, an independent market intelligence organization that recognizes the top companies, technologies and products in the global health and medical technology market.
Carium is a Care Experience Platform (CXP) delivering the next generation of advanced virtual care technology. An end-to-end, complete care management ecosystem, Carium allows care teams to actively engage people within their healthcare journey, regardless of condition, population or location. With Carium, care teams can automate complex workflows to optimize operational efficiencies and provide personalized care-at-scale.
"We are incredibly proud to receive this award from MedTech Breakthrough. First generation telemedicine was designed as an alternative to in-person clinic appointments. In contrast, virtual care is a technology-enabled model where care for health can happen anywhere, at any time and, most importantly, fully engage the patient. Healthcare organizations are embracing how well our platform helps them consolidate aging and burgeoning tech stacks while we enable comprehensive 'care between the care' outside of traditional settings," said Rich Steinle, CEO at Carium.
"We believe that it takes more to transform healthcare than remotely measuring a blood pressure reading, scheduling an appointment or taking a video visit. Carium is the platform where you can architect your vision of virtual care, hand-tailored to the people you serve," said Steinle. "We are actively advocating for and enabling patient-driven care management and engagement, because we believe that every person, every care team member, and every experience between them matters."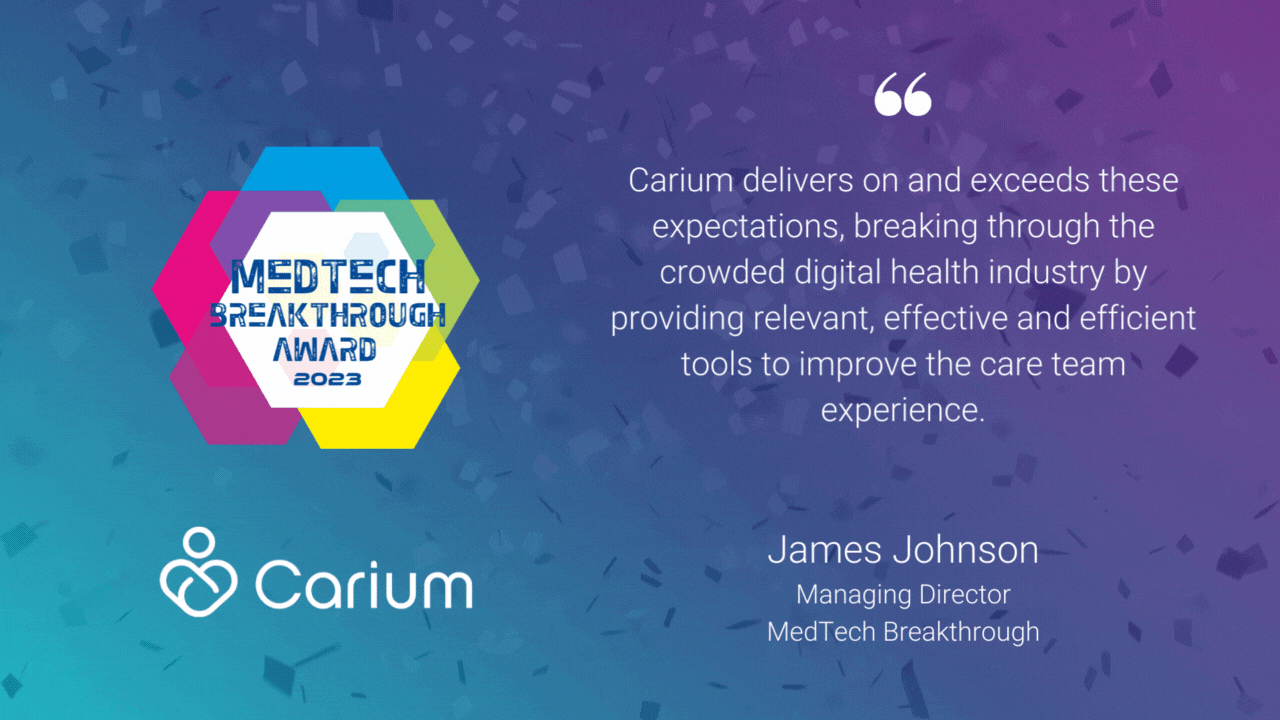 The mission of the MedTech Breakthrough Awards is to honor excellence and recognize the innovation, hard work and success in a range of health and medical technology categories, including Telehealth, Clinical Administration, Patient Engagement, Electronic Health Records (EHR), Virtual Care, Medical Devices, Medical Data and many more. This year's program attracted more than 4,000 nominations from over 17 different countries throughout the world.
"In today's trend of healthcare becoming more consumer-centric, people desire convenience, flexibility, personalization and high quality from their healthcare experiences," said James Johnson, managing director, MedTech Breakthrough. "Carium delivers on and exceeds these expectations, breaking through the crowded digital health industry by providing relevant, effective and efficient tools to improve the care team experience. The Company's advanced virtual care platform facilitates patient/member engagement from within daily life, in partnership and relationship with a trusted care team, throughout a care journey. Congratulations on this true breakthrough and being our pick for the 'Patient Experience Innovation Award.'"
About Carium
Carium is a Care Experience Platform (CXP) delivering the next generation of advanced virtual care technology. Within one, complete technology ecosystem, the end-to-end care journey – no matter how complex – is person-centric, proactive, and efficient for care teams and the people they serve. Visit us to learn more at carium.com and follow us on LinkedIn or Twitter.
About MedTech Breakthrough
Part of Tech Breakthrough, a leading market intelligence and recognition platform for global technology innovation and leadership, the MedTech Breakthrough Awards program is devoted to honoring excellence and innovation in medical & health technology companies, products, services and people. The MedTech Breakthrough Awards provide a platform for public recognition around the achievements of breakthrough healthcare and medical companies and products in categories that include Patient Experience & Engagement, Health & Fitness, Medical Devices, Clinical Administration, Connected Healthcare, Medical Data, Healthcare Cybersecurity and more. For more information visit MedTechBreakthrough.com.
Contact: Ashley Dauwer
401-744-6353
This was originally published on PR Newswire.