Welcome to Carium Support
Whether you're a patient or healthcare provider, this page will answer some of the top questions and share troubleshooting tips we get about Carium.
FAQs
How do I create an account?
---
Carium works with healthcare providers to help them enhance your care. If your provider is working with Carium, download the app and then your doctor or healthcare team will let you know what else you need to get started. If you have questions about signing up, reach out to them for more information. If your doctor or healthcare team isn't using Carium yet, but you'd like them to, let us know and we'll reach out to them directly.
---
What devices does Carium work on?
---
The Carium App can be installed on any iOS or Android phone or tablet that meets the following requirements:
iOS devices (iPhone and iPad) must be running iOS version 11 or later.
Android devices (phones and tablets) must be running Android OS version 9 or later.
Carium's Provider Web Interface is supported on the following browser types:
Google Chrome
FireFox
Safari
---
What health metrics can I track with Carium?
---
With Carium, participants can track several different health metrics such as:
Blood Pressure and Heart Rate
Blood Sugar
Body Temperature
Weight, BMI, Body Fat % and Lean Body Mass
Oxygen Saturation
Peak Flow
Sleep
Steps and Distance
Water Intake
Mindfulness
And many more!
---
What other features does Carium offer?
---
Carium's platform is feature-rich and ever-expanding! Depending on the features that customers have selected for their environment, participants are able to:
Connect to third party apps such as Fitbit, Garmin, Apple Health, and Google Fit
Pair with bluetooth-capable health devices

Visit our Devices page to see all the devices that connect to Carium

Message and join video chats with members of their care team
Track nutrition
Keep track of appointments with your care team
Create and manage goals, and set reminders for important actions
Journal about food, exercise, and health (you can even add photos!)
Track and set reminders for medications
Participate in health challenges
And much more!
If you see a feature that you'd love to use but don't have access to, reach out to your health care provider or feel free to contact Carium's Customer Care Team.
---
How do I sign up for Carium using a code?
---
Get the sign up code from your health organization.

Download the Carium App onto your smartphone, open the app, and tap the Join Carium button.
Carefully fill out the information and click the Join button. Don't forget to accept the Terms and Conditions.
In your email inbox, open the email titled Carium Registration from support@carium.com. Click the Verify Email button to launch the Carium App and confirm that your email was verified.
When you verify your email, you will automatically be signed into your Carium account. Follow the prompts to set up your account preferences.
---
Who has access to the data I add to Carium?
---
Only your care team members can see the health data that you add to Carium, and your health data is never shared with anybody outside of your care team. If you have technical problems with the Carium platform, our Customer Care Team may request permission to view your account in order to allow them to investigate and troubleshoot. For more information, read our privacy policy.
---
What health devices and apps can I connect to Carium?
---
Carium provides off-the-shelf, pre-integrated devices that cover the most common metrics used to enable the remote monitoring of patients.
Bluetooth devices: The following standard bluetooth-enabled devices are available through our web store:

Blood Pressure Cuff

Glucometer

Weight Scale

Thermometer

Activity Tracker

Pulse Oximeter
Cellular Devices

:

Recently we've added cellular devices, based on our client's needs. This works really well for patients who may not always have their phone close by, or are taking their health readings on-the-go. These are also available from via our web store!

Blood Pressure Cuff
Weight Scale
External Integration for other Devices/Wearables:

Carium additionally supports a range of external integrations that can source the data necessary to fulfill our partners' needs. This works really well for our "BYOD" clients (Bring Your Own Device). These integrations include Apple Health, Fitbit, Google Fit, Omron Connect and Dexcom. See table below for additional details.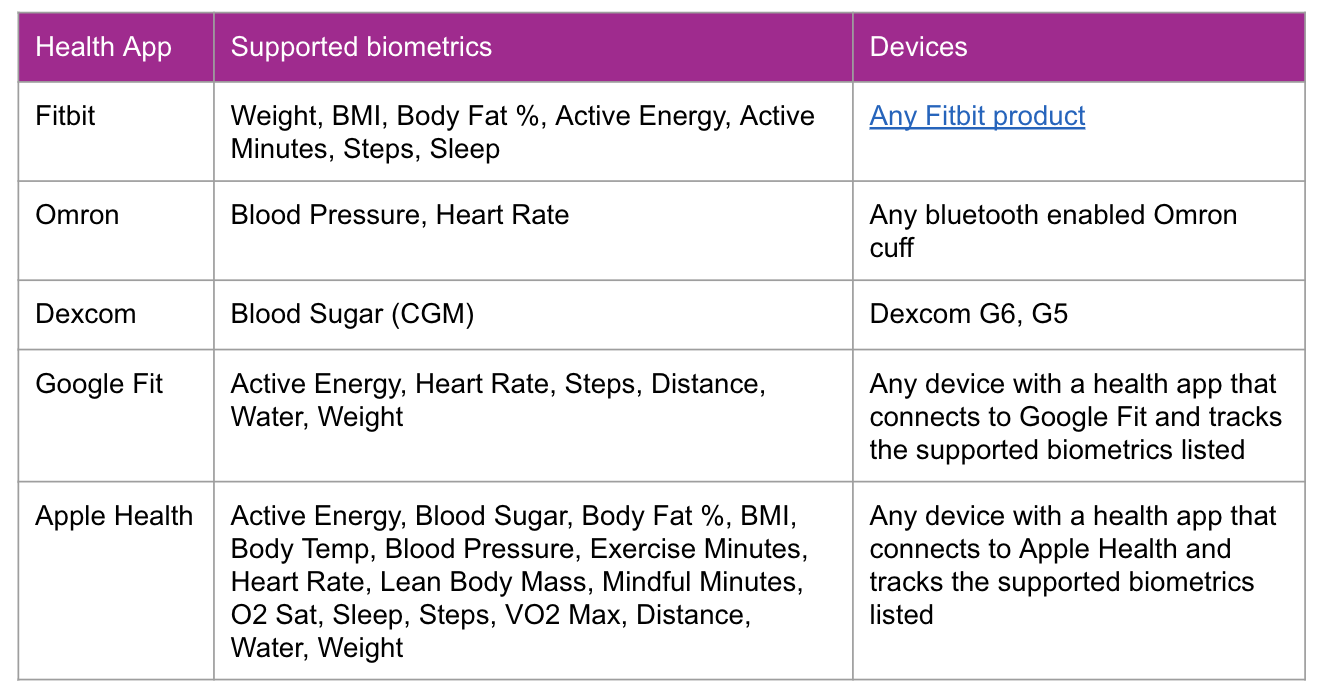 ---
What is the difference between the Carium and Carium Care apps?
---
The Carium app is designed for participants/patients (ie: people receiving the health care).
The Carium Care app is designed for health care workers (ie: people providing the health care).
---
How do I reset the password for my Carium account?
---
If you need to reset or have forgotten your Carium password, you can change your password by tapping the "Forgot password?" button on the sign in screen of either the Carium app or the Carium Web Interface. Click here to see detailed instructions for resetting your password from the Carium app. Click here to see detailed instructions for resetting your password from the Carium Web Interface.
---
---
If you still have questions, please reach out and our stellar support team will be in touch soon!