MedTech Breakthrough selected Carium as winner of the
Patient Experience Innovation Award
in their 7th annual MedTech Breakthrough Awards.
Award-Winning
Care Experience Platform
delivering the next generation
of advanced virtual care technology
Relieve Care Team Burdens
Engage Patients & Members
Provide Proactive Care-At-Scale
Tame Administrative Chaos
Carium is a Care Experience Platform (CXP) delivering the next generation of advanced virtual care technology. Within one, complete technology ecosystem, the end-to-end care journey – no matter how complex – is person-centric, proactive, and efficient for care teams and the people they serve.
This is the new generation of virtual care technology.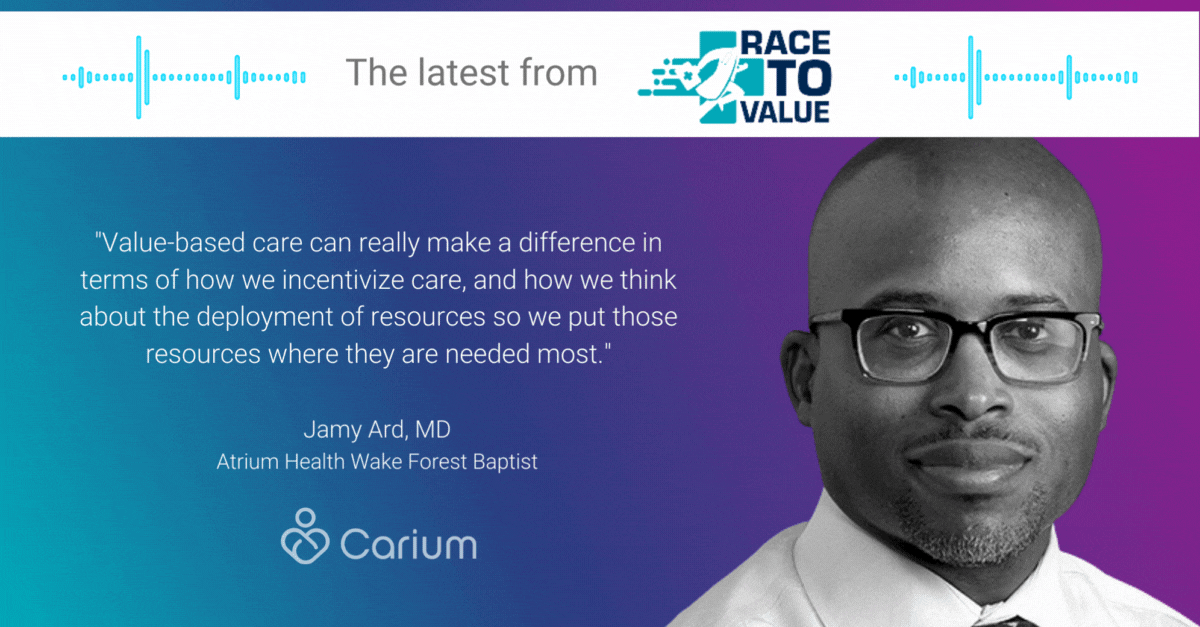 Rather than weight loss as a sidebar suggestion once a disease state is diagnosed, weight loss can be a potent catalyst for disease prevention and chronic care management within value-based care.
Dr. Jamy Ard, Co-Director of the Weight Management Center at Atrium Health Wake Forest Baptist, joins Carium CEO, Rich Steinle, in a thought-provoking conversation with Eric Weaver, host of the Race To Value podcast. Tune in and be inspired.
First generation telemedicine, accelerated by the pandemic, was designed to be an alternative method to in-person clinic appointments. Think of it as a house call via video.
In contrast, virtual care is a technology-enabled, care model where care for health can happen anywhere, at any time. Virtual care facilitates patient/member engagement from within daily life, in partnership and relationship with a trusted care team, throughout a care journey
How can virtual care technology make people feel cared for
not "managed"?
A Portal Is Not
A Care Experience
First generation digital health models reduced "care" to "management" – sterilizing experiences into depersonalized data file piles and portal transactions.
​
Carium's experience-led technology design is delivering the next generation of virtual care delivery. Within one, cohesive ecosystem, the end-to-end care journey is actionable, personalized and efficient for care teams and the people they serve.
What is experience-led design and why does it matter for virtual care technology?
In less time and with lower cost than it takes to hire just one senior software engineer, Carium enables healthcare to consolidate their tech stack into one, configurable platform to efficiently provide engaged care journeys.
ELEGANT, NIMBLE
ARCHITECTURE
Enabling Experiences




That Drive Results
Carium is driving measurable results across metrics that matter.
Increase in nurse & care navigator workflow efficiency
As reported by health system client's medical weight loss program
Ease of Use; Feeling of Connection; Active Role; Coaching & Education
Cost reduction per patient
As reported from health system client's cardiac rehabilitation program
Reduction in hospital readmissions
As reported from health system client's cardiac Peri-Operative program
Care team satisfaction score
Patients agree Carium was helpful in their care journey
What are our clients saying?
We spent two years trying to accomplish what Carium was able to deploy within weeks.
Workflow challenges negatively affected our nursing team. When we partnered with Carium, we created a scalable, sustainable solution.
Carium's platform is enabling us to consolidate our tech stack and efficiently scale our primary care business.
Vetting virtual care technology solutions?
Download this handy guide to ensuring your decision is well-informed.